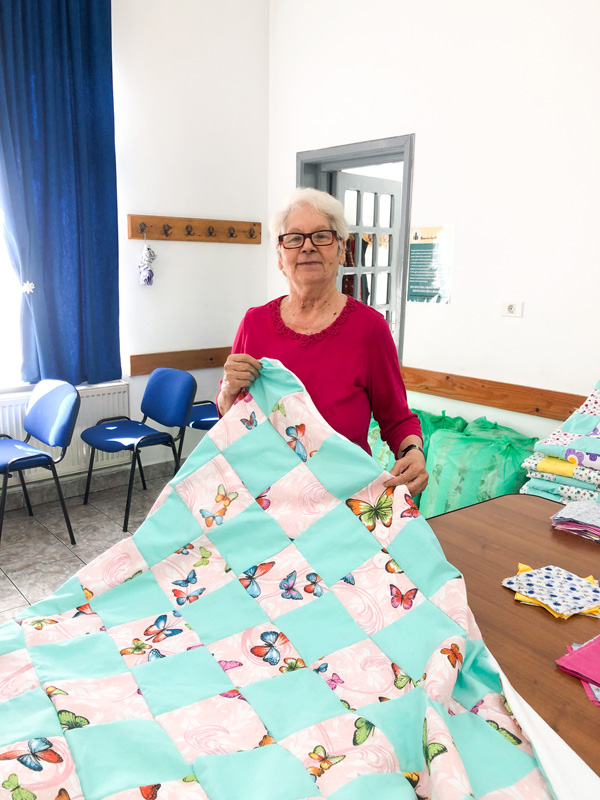 Through the Dorcas Ministry, groups of people, both young and seasoned, are coming together to minister to the hurting people of this world. They are utilizing their talents for sewing by working together to create shorts, dresses, diapers, blankets, etc. These handmade items are included in shipments to missionaries, hospitals, orphanages and churches around the world.
Our team is grateful to share with you an inspiring story featuring a woman at the Pitesti Church of Christ in Romania. She has been using her gifts (along with many other ladies in the church) to make quilts for Ukrainian refugees. They have already completed hundreds of quilts, and they are being sent all over Romania. A member of our team asked her if her hands get tired and she said, "No. Sometimes my back gets tired, but after I get up and walk around, I am able to keep going." She shared that God has given her the strength to keep going and she finds this work calming.
The hard work of your hands are not put to waste when an individual in need across the world receives your item made with care and love.
We are holding off on receiving Dorcas items at this time as we are currently packing the lovely pieces you have already made and shipping them across the world! Our team is excited to share that beginning September 1, HHI's Nashville Warehouse will begin accepting MORE Dorcas items! We can't wait to see what you create over the summer.
If you have any questions regarding the Dorcas Ministry or how to get started, give our office a call at (615) 832-2000. We are grateful for you!