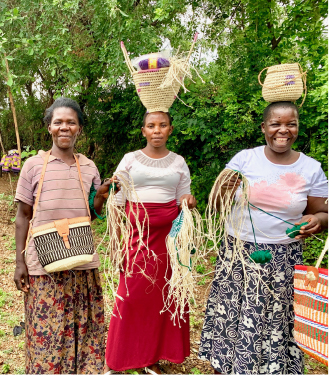 Somewhere around the world, 1,000 little girls will have a new dress, thanks to Ruth Mitchell of Mineola, TX. Ruth first learned of the HHI Sewing for Jesus ministry through the Broad Street Church of Christ, where she and her husband attend church. Ruth started sewing pillow case dresses almost two years ago and recently passed the 1,000 dress mark—and she's not stopping there! She has already cut fabric to complete another 200 dresses. Ruth recalls when she was a little girl going to visit her aunt in the summers and how excited she would get over having new dresses made from flour and feed sacks. She said, "I know what it is to be excited about something new." Her mother was widowed and raised her children alone. "We grew up poor," she said. "We saved everything."
Ruth's sewing skills are well-known within her area, and she has received many donations of fabric over the years. All 1,200 dresses hand-made by Ruth will have come from her own fabric collection! She thoughtfully matches different materials together and ensures that little fabric goes to waste. Most of her work is done on an early 1900s Singer featherweight sewing machine. The dresses for little girls are bright colored, and she has assistance from some of her local church members who will add ribbons to the top of each dress. These dresses are distributed to countries around the world, and many of them end up in the HHI MAGI boxes.
Our team is overwhelmed with gratitude for Mrs. Ruth. HHI could not do the work that it does without the support of our amazing volunteers!